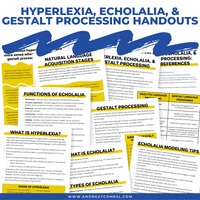 Hyperlexia...what's that?!
Need a quick and easy way to educate others about hyperlexia, echolalia, and gestalt language processing? These handouts are a valuable resource for professionals and parents alike and are easy-to-understand, no matter where you are in your journey.
Learn more
Check out these great hyperlexia resources
Our most popular social stories
Get access to all the I spy games!
Whether you want to keep the kids busy at home or use these in the classroom, our I spy games are a hit with kids of all ages. With the Massive I Spy Bundle Pack, you get access to our entire collection. And when new games get added? You'll get those too.
Buy the full collection
Our most popular I spy games
What others are saying...