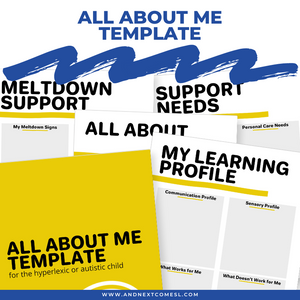 Make back to school a breeze with this all about me profile. It's a great way to introduce your hyperlexic or autistic child to their teacher.
There are four pages total that you can fill in. One page is all about your child's diagnoses, interests, and strengths. The next page is dedicated to your child's learning profile. The third page focuses on your child's support needs. And the last page is all about meltdown support.

You'll receive both a PDF version and an editable Google Slides version.

**This is a digital product that you can download immediately after purchase.**